Marcllorca101, aka FilipinoSpartan is a sparta remixer. She creates other content like translated Filipino shows, YTPs, etc. She closed her channel on 2015 for unknown reasons. Some of the videos were saved, asides from shows, YTPs and a few sparta remixes (including her nineparison) were forgotten. She uses Hatsune Miku, Fairly Odd Parents, Philippine sources, Gumball, etc.
History
When She started on March 2011, She made its first sparta Remix in WMM, She improved on 2013 when She started using sony vegas in her remixes.
Trivia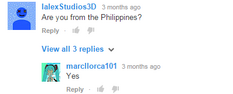 She is great at sparta remixes.
One of the few sparta remixers that live in the Philippines
It is unknown why She upgraded to Windows 7 to make sparta remixes.