From now over 14 years ago, remixers in the Sparta community have been making Sparta Remixes a lot lately. If you don't know how to make a remix yet and you're still struggling to learn how to make a remix, then you came to the right place.
How To Make A Sparta Remix (for starters)
Step 1
To get started, you have to get a Sparta base and a source. You can easily find a base from SpartaBaseReuploads or SoundCloud. If you are downloading a base from YouTube, make sure to use an online YouTube MP3 converter (for example https://ytmp3.cc/) to convert the following Sparta Base to the MP3 format and download it. (Or, if your editing software natively supports MP4/AAC audio, the format used by almost all YouTube streaming formats, then you can just demux the file you downloaded from YouTube to its individual video and audio components and use the audio part; some YT downloaders like 4K Video Downloader even allow you to download the audio alone, be it MP3 or AAC, without having to first download the video & convert later.) Once you have downloaded your chosen Sparta Base, find a Sparta source video or get it from what website you have downloaded from.
NOTE: If you want to download cartoon sources from other websites, make sure you have the Video DownloadHelper addon before doing this.
In order to make the source downloadable, play it and the addon will detect the video. Go to the addon and click the video to download. Make sure you click on (MP4) "720p" or "1080p" (if possible) for the highest quality to download, or else the source will have bad quality.
If it's a YouTube or DailyMotion video, download the video using an online MP4 converter instead that supports downloading YouTube or DailyMotion videos. A good converter can be found by clicking here.
Step 2
Main Article: Timing

NOTE: Before doing this step, make sure you have downloaded and installed Vegas Pro beforehand.
To get started, open up Vegas Pro. Here are many steps here in order to have perfect timing for a Sparta Remix, so make sure to check the Timing page for more instructions.
What you have to do
Set the ruler to 16th notes (you can also use 8th, 32nd notes or triplets but 16th is recommended for remixes). Set the BPM to 140.000 (if you use a base with a different BPM, set that BPM instead).
Make sure to enable Snapping, Active Take Information, Snap To Grid, Snap To Markers and Snap To All Events.
Always make sure to disable Quantize to Frames, leaving this feature enabled will make your Sparta Remixes less synchronizable.
Know how to zoom in and out, add new tracks (video and audio) and view note slices as shown below in the screenshot.
Step 3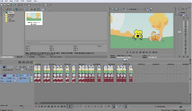 NOTE: Make sure to import your source(s) and base(s) before starting to work on your remix.
NOTE 2: Before doing the chorus, make sure to activate the pitch shift effect beforehand in order to avoid sample corruption.
The chorus. In case if you don't know, the chorus is the "main pattern" that is "often repeated throughout a Sparta Remix". There are many tricky patterns out there to use, such as one of the freestyle patterns.
But for beginners like you, here is the basic pattern that you can use in one of your Sparta Remixes:
11_11_111_1_1_11222_2_222_222_2_

Step 4
Main Article: Epicness In order to do the Epicness, you have to look in this segment and repeat it in Vegas (just like with the other step above):
1*__1*332*1_1_11__1_1*113_3_22221*3_1*332*1_1_111_1111111111111
____________________________________________3_3____3__3_3333_33

If you're interested enough to use custom patterns instead of the original one, you can also look here for the Epicness freestyles.
How To Make A Pitch Sample (Melodyne)
Step 1
To get started, you have to get Melodyne. Melodyne can be acquired on http://www.celemony.com/en/start or by other, less-than-legal, means. Sometimes if you ask on Discord, other remixers may provide you a link to download Melodyne. Once you have downloaded and installed Melodyne, open up VEGAS Pro, import your source (can also drag-and-drop), adjust your ruler settings and implement the basic chorus (as the methods were mentioned above). You can have an old version of Melodyne if you want.
Step 2
NOTE: Melodyne samples sound depending on which sample you chose. If your sample doesn't sound good, considering choosing a different clip part to sample.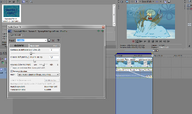 In order to make a sample, make sure to find a sound, audio that sounds clean as possible in the source (equalization may help sometimes to clean the sample). If the sample is too short, it can be stretched either in Melodyne or Vegas, but it's more recommended to stretch the sample (if very short) in Melodyne in order to avoid distortion.
Step 3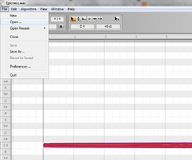 To make a new sample, you have to render your chosen audio (as mentioned above) in .wav format. You should be careful where you save and name your sample, because sometimes you may mix and choose the wrong sample for the visual! Now that your sample is rendered, open Melodyne. In Melodyne, you need to import your sample (click on the File tab and click Open to search for the audio you rendered earlier).
Step 4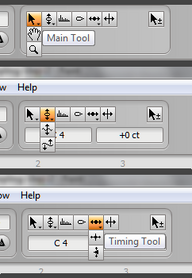 The sample you imported will be shown in Melodyne. In order to correct the sample, click the button "Correct Pitch" and set "Correct Pitch Center" and "Correct Pitch Drift" to 100% and click "OK". The sample may be too short, so you need to stretch it by dragging the sample until the sample is expanded.
The sample has also an inner line (the audio tone) which may look curved so it's time to correct this too (right-click the "Pitch Tool", click the Pitch Modulation Tool and set it to 0% and the line will be straight).
Once your sample is finished, export it (click on the File tab, and click Save As to save your new audio).
You can optionally import your sample straight away in Vegas and make it match with the visuals (activate the pitch shift effect beforehand in order to avoid sample corruption, use the pan/crop tool and resize the visual clip to the desired size, when the sample plays more, turn the sample horizontally or vertically and change the sample's position in the opposite direction, making sure the flipped visual's position matches the unflipped one's position).
Algorithms
Open the .wav file in Melodyne and it's automatically selects the algorithm mode for Sparta Remix, make sure to set melodic if it needs.
There's some algorithm options:
Melodic - A melody of music that detects it.
Percussive - Detects if is percussive when the sample plays it.
Polyphonic - Separates the tracks and extracts it as a melody with additional samples played, it can be bass or piano.
Just remember, due lot of space is 10 GB by default. If you want to save some space:
Documents > Celemony > Separations
And you right click and hold right shift button to permanently delete it, this also it saves some space.
It can be used in Audacity to edit the sample with effects.
How To Make Patterns easier with FL Studio
With pitch samples only
NOTE: This tutorial is written for FL Studio 12 or higher. Older versions may still be used, but some features might be relocated or missing.

Instead of importing and doing the pattern straight into Vegas, you can import it in FL Studio (drag and drop it there, or import a blank instrument to import the sample there.).
In the sample's properties, activate trim and crossfade before using the piano roll, there's also FL porta if you want to make your samples have a vibrato effect. If your sample sounds too standard, you can also add FL built-in effects (equalization, chorus, delay and more...).
If your sample is too long or you're having trouble with crossfading the sample, it is recommended to try trimming the sample and cutting out any unwanted sound. In FL Studio 20, you can use the SMP Start and Length knobs to trim the start and end portions of the sample. In FL Studio 12, you will need to manually trim the sample using an audio editor (Edison is built into FL Studio and is available by right clicking the waveform in Sampler).
Doing the pattern is as easy as doing an FL studio pattern. After you've finished your sample pattern, export it in a different name (in order to not mix it up) and then drag and drop it in Vegas, and make the box visuals match with the samples by usually flipping them.
Doing all percussions and pitch samples in FL Studio
Another method is to do every pitch sample and percussion on FL Studio. (to be added)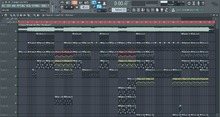 Delay effect
To do the delay effect, you have to go on the Fruity panel, and click Fruity Delay.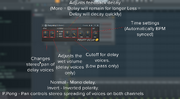 See also