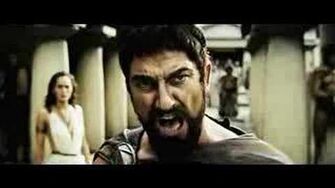 If you're looking for everything about the Sparta Remix, click here!
"This Is Sparta!" is the catchphrase from the movie "300" and a YTMND fad that started a new meme and fad known as the Sparta Remix. In the Sparta community there were also two Sparta Remixes with "This is Sparta! in the 2015-2016 era.
History
NOTE: This section is about the Sparta Fun Times Remix video.
The instrumental was composed by keatonkeaton999 on February 19, 2007, remixed with the "This Is Sparta!" dialogue from the 300 motion picture, paired with an animated GIF taken from the same movie's epic scene, and uploaded to the famous meme/fad website YTMND (You're the Man Now Dog) as 300TMND: THIS IS SPARTA (fun times mix). This remix got viral and soon found its way onto YouTube, when some anonymous YouTuber (not keatonkeaton999) decided to pair the audio remix with random 300 GIFs pulled from YTMND and 4channel (4chan). Other YouTubers soon followed up with their own pairings; within one year, there were nearly a hundred different videos using the same remix, including some who claimed to be the "original" (although that can be easily denied, since the real "original" was only a YTMND and not a video, and the first Sparta remix video uploaded to YouTube might be already deleted or otherwise no longer available) - these videos are considered the "Zeroth Generation of Sparta Remixes" and their uploaders are thus considered the "Zeroth Generation of Sparta Remixers".

About one month later, on March 28, 2007, Keaton decided to extend his own Sparta Fun Times remix with a longer instrumental - thus the Fun Times Extended Remix was born. The instrumental itself was also released to the public as a payware MPEG Audio Layer III (MP3) track through his Keaton's World website, although back then nobody had yet considered using the instrumental with anything else - in other words, the instrumental itself (short or extended) was not considered a base on its own right... There also was born live version before April 4, 2008 (youtube:300 This is Sparta Remix LIVE VERSION). You can download remakes of this by GringoHisopo1993 and Jastuk55 from The Ultimate Sparta Base Collection.
Sparta base history
...until Keaton decided to pair it with the "DENNAL PLAN" clip from The Simpsons on May 16, 2007. Thus the first non-300 "Sparta Remix" was born, although Keaton did not call it a Sparta Remix but rather just another Fun Times Remix (he's got several "Fun Times" remixes that do not use the instrumental being discussed on this article). The name "Sparta Remix" was coined up sometime in YouTube when Keaton decided to make the short instrumental available to the general public as freeware (the original link to the short instrumental is gone from Keaton's World) and someone else used it to make another remix which was uploaded to YouTube (it is not known whether it was remixed in the same "correct" style as the 300 and DENNAL PLAN remixes or whether it was a fail remix).
Link
The original download link to the Sparta Fun Times Remix base no longer exists - it was removed from Keaton's World after Keaton complained that people using his base for their own remixes were not crediting him at all as the base's composer/creator. So other people decided to upload it to their own MegaUpload, MediaFire, and several other file-sharing site accounts; the base's quality, however, varies from one account to another, with some accounts having cropped out part of the final whiplash but after few months the download link has been reuploaded.