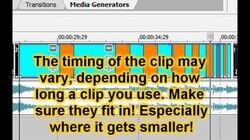 Timing is a major component in a Sparta Remix . This component is important in order to make a Sparta Remix syncronize better or else the remix will sound bad.
Remixes with correct timing started to get popular in mid 2011 and 2012.
Correct Timing Tutorial
This mini-tutorial shows you how to do the correct timing.
Simple tutorial
Step 1
Click file, properties or just press Alt+Enter.
Step 2
Go to Ruler, set the BPM to 140.000.
NOTE: If you are using a base with different BPM put the base's BPM there, always remember to set the BPM to 140.000 on 140 BPM bases.
Step 3
Set the ruler to 16th notes (you can also use 8th, 32rd notes or triplets but 16th is the most recommended for remixes).
Step 4
Make sure to enable Snapping, Active Take Information, Snap To Grid, Snap To Markers and Snap To All Events.
Step 5
Always make sure to disable Quantize to Frames, leaving this feature enabled will make your Sparta Remixes horrible and unfitting.
Advanced tutorial
Check:
Enable Snapping,
Active Take Information
Snap To Grid
Snap To All Events
Snap to Markers
Uncheck:
Quantize to Frames
Quickfade Audio Edits
Automatic Crossfades (optional)
To synchronize your source along with the Sparta base in perfect timing also, go to:
File

Properties
Ruler (section)
Set the Ruler Time Format to Measures and Beats
Set the BPM (beats per minute) to 140.000.
Click OK and go to project properties to save the settings everytime you load the project.